the Movie Club Annals ...
The Lost World
Reviewed by Carl R.


Rating: x rē Poseidons

x rē
The Lost World
This review is dedicated to Vitina Marcus, who made a brief appearance in the film, which is credited as 'Native Girl' in IMDB.
Vitina Marcus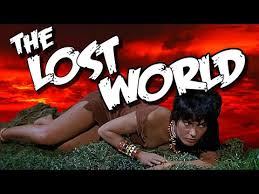 Vitina Marcus, as Native Girl
Though this was a relatively small part for Vitina, she is a a fine actress with wide range of parts to her name, and most importantly, she is a wonderful person. Vitina starred in Lost in Space, The Time Tunnel, The Man from U.N.C.L.E., Voyage to the Bottom of the Sea, and a bunch of other really cool TV shows.
These days, and for some time now, Vitina goes by the moniker "The Green Lady", which is a reference to her leading role of "Athena" in a 1967 episode of Lost in Space entitled "The Girl from the Green Dimension". In this episode, Vitina literally plays a green lady. Not just any green lady, but a green lady with a fixation on Dr. Smith! Vitina's leading role makes this one of the best episodes of the legendary Lost in Space series!
Vitina has a great website where you can get personally-autographed photos. Be sure to visit!
Carl R.